OTHER CRMs ONLY TRACK ENGAGEMENT
WE CREATE IT.
THE WORLD'S FIRST INTERACTIVE VIDEO-BASED CRM
No more friction in your sales process
Our interactive video platform gives you the tools to sell.
Sell your products more effectively.
Add interactive buttons that send your clients directly to their shopping cart or any desired link on the world wide web. 
Connect with your audience.
 A phone pad on-screen allows the viewer to input their phone number, and be connected via a live person or voice-recorded audio.
Link multiple videos at once.
Your audience may click on-screen to chose different options like a table of contents, or voting system, that prompt other videos.
Our Products
Our notifi-products have a full line of interactive tools that give your sales team a boost in efficiency. Below are the items in our little bag of awesomeness. Warning, you'll fall in love with some of our features, so try not to pass out in the process. 
notifiCRM
our Flagship Product is an enterprise-class, fully scalable platform. It is built around our core technology for the creation and delivery of interactive videos that serve as the centerpiece of our CRM and Lead Generation solution for any sales-based organization.
notifiLINKS
allows our customers to DISTRIBUTE interactive videos via Email, Text Messaging, Social Media, and Electronic Invitations, among many other distribution methods.
notifiWEB
allows customers to create and display sales, product, or corporate videos with 'clickable' interactive links in the actual video on their 'WordPress' and other template-based websites, viewable on desktop and mobile devices.
notifiADS
allows our customers to embed their interactive videos in online ads they can place almost anywhere online, such as in Facebook ads, among other popular online destinations.
notifiTV
allows customers to create interactive media destinations for broadcasts, VOD, and live streams, viewable on any browser or smart TV.
notifiLIVE
allows customers to live stream interactive content with dynamic placement and insertion of interactive elements, viewable on any browser or smart TV.
Be up and running in minutes. From sign-up to your first conversions,
notifiCRM is an easy process.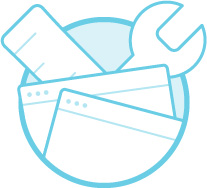 Ready to grow your conversion rate?
INTERACTIVITY BY
Click below on the images to view some of our interactive videos.
75%
of online video viewers have interacted with an online video ad this month.
33%
of all online activity is spent watching video.
92%
of mobile video consumers share videos with others.
36%
of online consumers trust video ads. 
Pricing starts as low as $9.99/month
Have any questions? Send us a line, our customer support is standing by.